Here we showcase a selection of our clothes and accessories as worn by our lovely customers, models and friends. Please note that all images are copyright of our partners and photographers and may not be reproduced or altered without their express permission. .
Kirstin revisits the Frockery
Kirstin Frocker, now based in London, fell in love with this 80s tan leather skirt when she recently returned to the family business fold for a visit. Our loss is Urban Outfitters' gain and we miss her lots!


Mother and daughter
Thank you to Fiona, one of our local customers, for sharing this lovely picture of herself and daugher Eva celebrating her 13th birthday. Glorious weather to show off the summer frockery!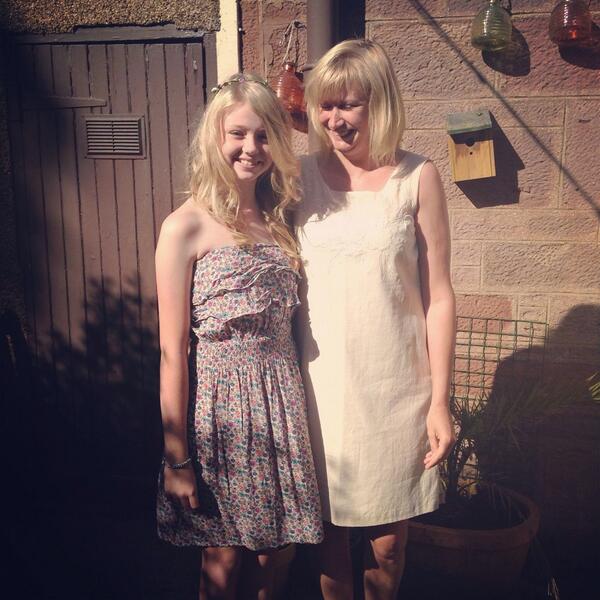 Oh Cecilia!
Cecilia, another of our regular customers and runner-up in the Frockery Eco Fashion Challege 2014, looks stunning in this lemon lace vintage dress which she describes as "the most perfect lemon drizzle cake of a frock".
...and gets lots of compliments on this tartan maxi skirt. She says: "I've been swishing round the corridors at work like a Victorian school mistress!!"
Spot our Evee!
One of our customers, the lovely Evee, has shared with us the red and white spotted frock she purchased from us for a friend's recent wedding. Doesn't she look stunning?
CATWALK 2013 St Andrews RAG Week
Some of our frockery was showcased at CATWALK 2013 on 9th February. Images by Lightbox Creative St Andrews.
Marlene Dietrich homage by Oliver Schneider
Glasgow photographer Oliver Schneider shot some incredible images of model Kelly Donaghy in a recent Marlene Dietrich homage.Hair and make up was by Sandra Cormack with clothes and accessories from the Frockery collection and Dundee Rep.


Sweeney Todd!
There was a lot of (fake) blood spilt at this Sweeney Todd shoot for Invite Magazine. Here is a behind the scenes shot of Mrs Lovett (model Taylor Sommerville) wearing some of our frockery with hair/make up artists Sandra Cormack and Raymond Wood.


And some pics from the actual shoot (credits as above)
Lovely Lexi rocks the polka dot frockery!
One of our fab customers fell in love with this rockabilly style dress as soon as she saw it and it was hers by the next day! Doesn't she wear it well?
1950s fashion shoot by Dylan Drummond
Model Stacey Sturrock rocked the 50s pin up look for this photoshoot by Dylan Drummond with hair and make up by SC MakeUp Artistry. View Dylan's album here for some stunning images of Stacey in a rare, original 50s Horrockses play suit as well as more of the diner look! (July 2012)
Invite Magazine shoot at Kinnettles Castle, Angus
Sula Powell looked fabulous in some of our vintage frockery which was showcased on a photoshoot at Kinnettles Castle for the next issue of Invite Magazine. Hair and make up by SC MakeUp Artistry, image by Louise Beattie Photography. More details here. (June 2012)
Scottish Fashion Awards 2012
Sandra Cormack rocks a vintage cocktail dress, vintage Dolce & Gabbana shoes and vintage bag by the Frockery at the Scottish Fashion Awards in Glasgow. Images courtesy of Keri Fullwood. More details here. (June 2012)
Happy customer and fellow vintage aficionada!
We were delighted to be featured in Cissyface Vintage's blog following her latest Frockery purchase of a hotchpotch tartan shirt which she wears with her own creation, a Royal Stewart circle scarf. (June 2012)

St Andrews Vintage Fair
Students Siobhan Dooley and Hannah Wood rock boho chic and 50s prom respectively. Hair and make up by SC MakeUp Artistry, images by Gillian Gamble. (March 2012)
Dollyfrockers launch in St Andrews
St Andrews University students Hannah Wood and Camilla Colston helped launch the new Dollyfrockers brand wearing frockery by the Frockery! Images by St Andrews Citizen and Gillian Gamble, hair and make up by SC MakeUp Artistry.(February 2012)
Photo shoot by Oliver Schneider
Glasgow based photographer Oliver Schneider captured some amazing images of Juuli Vaajaniemi in some of our vintage frockery: a little black 40s cocktail dress and a 60s ivory silk sequinned two piece pre-owned by a former London model. Hair and make up by SC MakeUp Artistry,
St Andrews Very Vintage Fair
Siobhan Dooley models a Frockery circle skirt (which was, literally, bought off her back!) and a Jackie Kennedy Mad Men style cocktail dress at the Very Vintage Fashion Fair in St Andrews. Image by Ivory Tower Events, hair and make up by SC MakeUp Artistry (October 2011)
Kirkcaldy Vintage Fashion Show
The Frockery turned out on 3rd July along with some of Scotland's finest vintage venturers for a vintage and retro related jamboree in Kirkcaldy, hosted by the Joint Regonal Development Trust to raise funds for the B-eat Charity which supports people with eating disorders.
Alongside stalls aplenty selling clothing, millinery, jewellery and home wares, the Green Cockatoo tea room served up welcome sustenance in truly traditional style, while music from down the decades complemented the atmosphere of the day.
The highlight for us was the afternoon catwalk show which featured pieces from some of the stallholders, including the Frockery. The young models showed the clothes off to great effect as they strutted their stuff across the stage, showcasing outfits from the 50s, 60s, 70s and 80s.
It was an exhausting day, but we thoroughly enjoyed it, met some lovely people and acquired a few new customers. Take a bow, Hazel Kelly, for putting together such a successful event for such a worthy cause.